DIFFERENCE AND REPETITION
2019
Uni-City, Changwon KR
Concrete, mirror, LED light
77,000mm x 30,000mm x 30,000mm
The title references Deleuze's thesis 'Difference and Repetition' - his attempt to understand reality without referring to identities.
The artists aim to 'unidentify' the audience - to criticise the bubbles of reality which technology has helped us to build around ourselves. By allowing ourselves to remove our identity occasionally, we can better understand the thoughts of those we disagree with and therefore better work together to build a combined reality.
Difference (in both senses) is generated by the motion control system which continuously changes the pose of the mirrors relative to the viewer. This movement disrupts space itself, creating a transformation similar to that of a Lorentz transformation when one travels close to the speed of light. This causes space itself to compress, twist and break, giving the viewer a tool for observing the non-absolute nature of time.
Once the viewers are standing in the area between the mirrors, they observe a sequence of motion which is designed around their perspective. They will see themselves multiply and divide, and will experience a kinaesthetic experience where they feel the shape of space and their own bodies shifting around them.
'차이의 사유'
우리 삶의 어느 순간도 고정되거나 동일하지 않다. 일상은 마치 같은 자리를 반복해 도는 듯 동일해 보이지만 그것을 이루는 찰나의 겹 안에는 무수한 차이들이 존재한다. 작품 '차이와 반복'은 동일한 조건 속에서도 끊임없이 발현하는 '다름'에 대한 사유에서 시작되었다.
우리는, 걷고 움직이고 이동하며 순간마다 다른 시점으로 세상을 바라본다. 모든 사람들은 제각기 움직이는 시점으로 세상을 응시하고 이해한다. 이렇듯 다른 시점으로 읽히는 세상의 현상들은 비슷해 보일 뿐 사실 어느 것 하나 동일한 것은 없다. 존재하는 모든 것들은 저마다 다르고 또 다르게 해석된다.
회전하는 거울을 중심으로 마주 선 거울들이 서로 마주치고 어긋나며 영속적 이미지를 반사한다. 거울 속 이미지는 영겁의 시간처럼 무한히 반복되며 그려진다. 다양한 시점에서 그려진 거울 속 무수한 '나'는 그 시공간의 중심에 선 주인공 이기도 하고 혹은 다른 것들과 함께 구성원이 되기도 한다.
작품의 거울들은 수많은 시점을 빚고 떼어내면서 세상을 읽는 방식이 한 가지일 수 없음을 말한다. 자신을 타자로 분리하거나, 뜻하지 않게 타자와 마주치거나, 내가 속한 시공간을 새로운 각도에서 관조함으로써 우리가 사는 세상이 '다름'으로 연결된 특별한 '조화'로 만들어있음을 표현하고자 한다.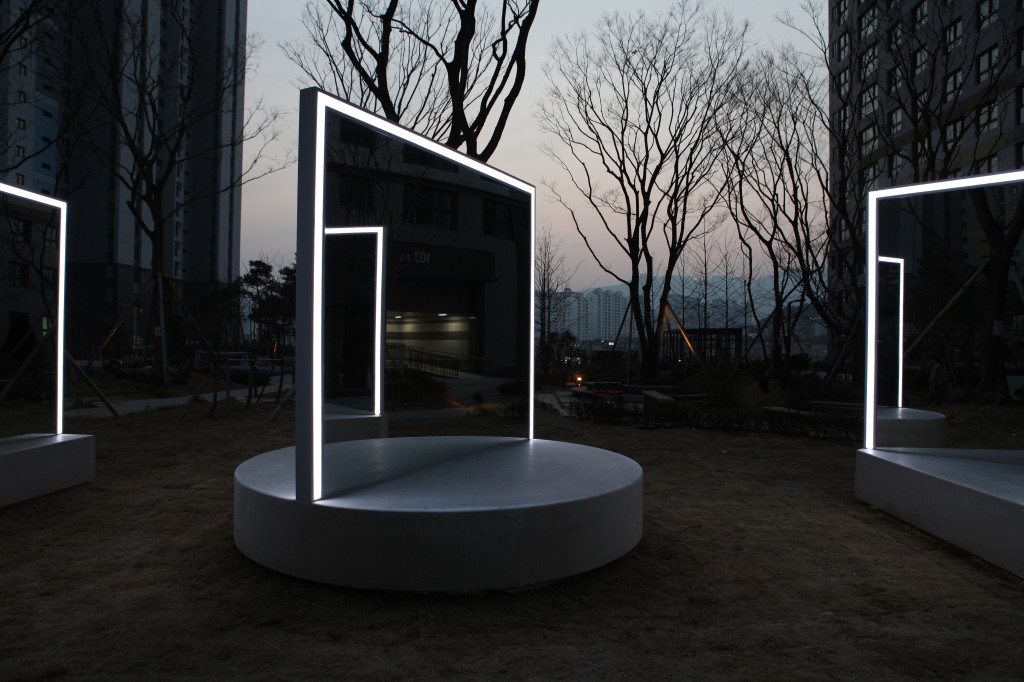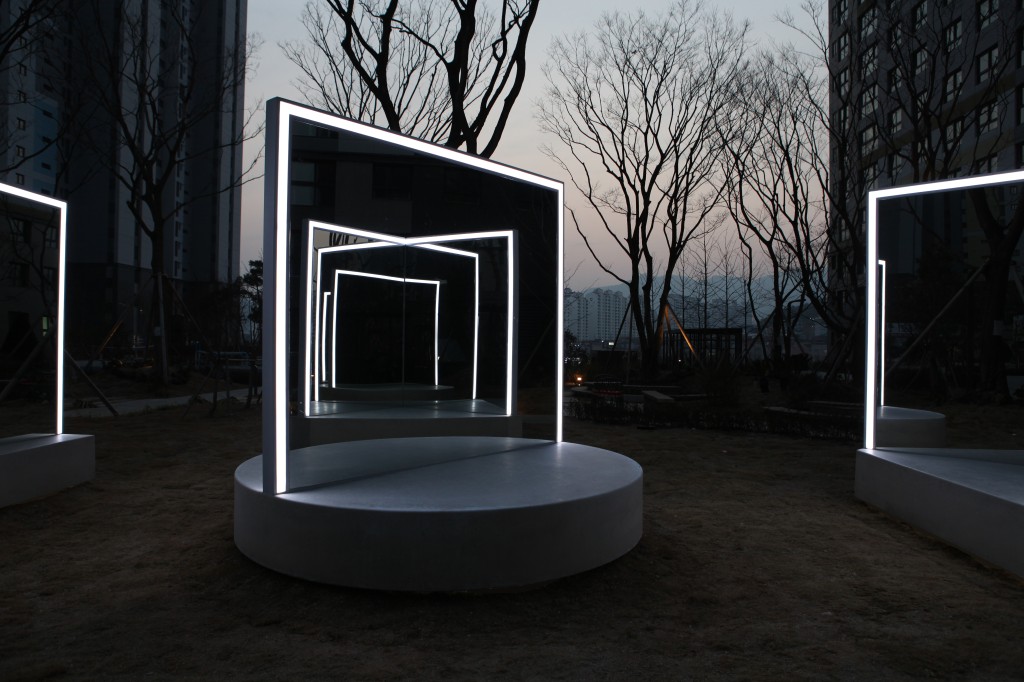 Working video, April 2019
Scaled prototype March 2019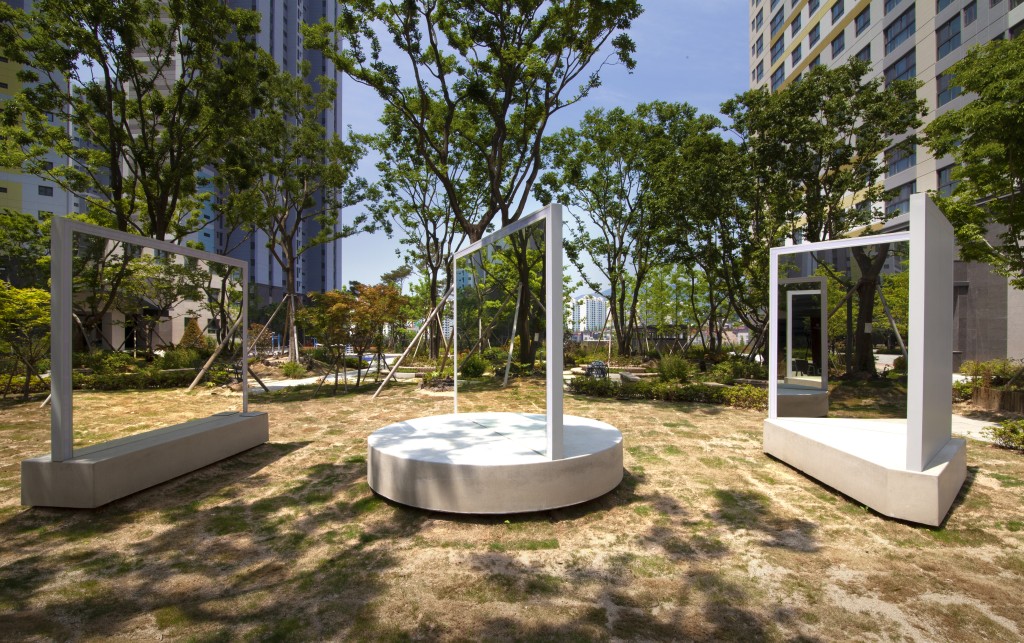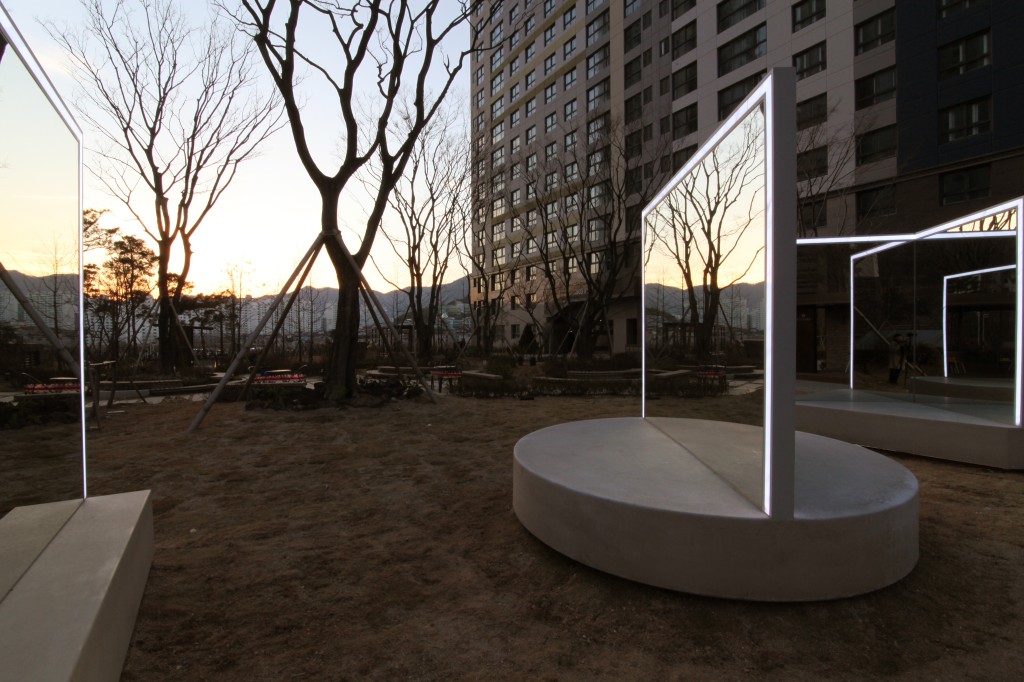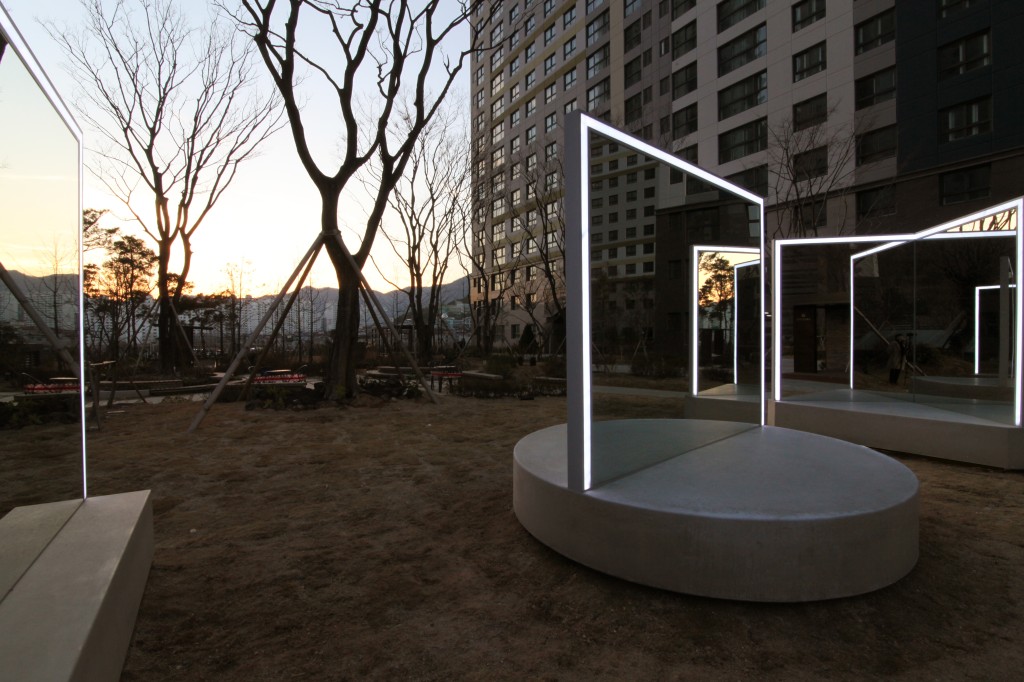 Co-commissioned by
Taeyoung E&C
Presented by
Taeyoung E&C
Fabricated by
Studio Sungshin
Photography by
Kimchi and Chips
Videography by
Kimchi and Chips